OUR MISSION IS TO HARNESS OUR CREATIVITY INTO A VIABLE SOLUTION

FUTURE INSPIRE is a uniquely competent, Professional and Creative IT Service Company providing full featured Web Solutions and Design Solutions for small, medium & large organizations in India.
At FUTURE INSPIRE, We Design, Develop, Promote, and Manage leading-edge "Premium Quality" Websites, Commercial and Promotional Video Ads, HD | 2K | 4K Theater Advertisements, Traditional and Western (Save the Date) WhatsApp Wedding Invitation Videos, Birthday | Ring Ceremony | Anniversary | Valentines Day | Mothers Day | Fathers Day, etc Special Events & Memories Videos, and much more.
Our team has dedicated forward thinkers and revolutionizing people aspires to provide you with the best of solutions with perfection par excellence.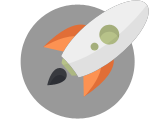 We're Here To Help Your Business Blast Off!
Through Creative Ideas, Innovation & Sheer Determination